Mei Tai Sizing and Features
Diva Milano mei tais are produced from Diva Essenza fabric (regular stock), and sometimes we produce mei tais from Diva Milano fabric (by a special order).
DIMENSIONS
The dimensions of DM mei tais are common for the industry:
mei tai back is 45cm (17,7") high (not including the hood) and 40cm (15,7") wide;
upper straps are 2,2m (86,6") long and 25cm (9,8") wide;
lower straps are 90cm (35,4") long and 8,5cm (3,3") wide.
Mei tai body and straps are unpadded.
AGE RESTRICTIONS
Diva Milano mei tais can be used with:
newborns (with a hood used as a headrest and mei tai body base reduced in width by special cords with stoppers); you can also reduce the height of the back panel by slight tucking of the belt;
most babies up to 12-18 months with the upper side of the mei tai back ending under their head (the baby should be properly positioned without excessive sagging in the back, with a mei tai back properly pulled up);
toddlers up to 2-3 years with their shoulders and sometimes arms outside.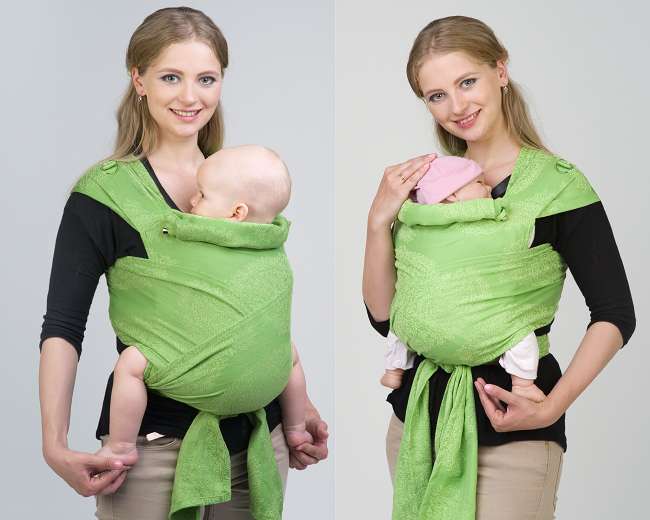 A baby on the left side is a big boy 12 months old. A doll on the right side has dimensions of a 1-2 months baby.
All mei tais have hoods which can be fixed with 2 half-rings on each shoulder strap. You can use a hood as a headrest with 2 possible positions. When the headrest is fixed in the upper position, it serves as a mei tai back extension so can be recommended especially for toddlers.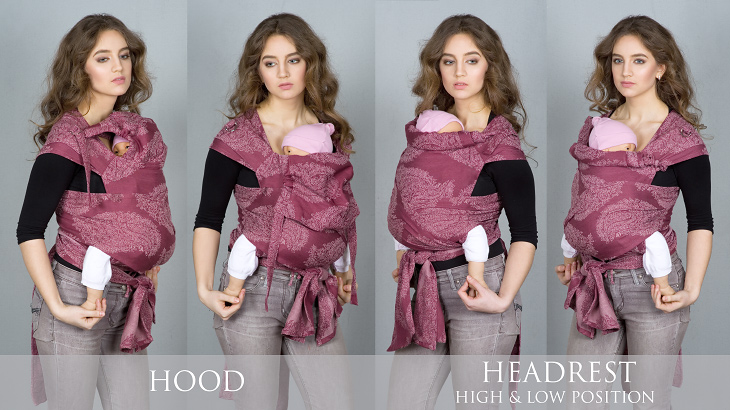 Regular mei tai dimensions are suitable for grown-ups wearing sizes up to XL (app. 16 US/18 GB or 46 (F), 52 (I)). Grown-ups with sizes L-XL will have the upper straps' knot on their back. Grown-ups with lower sizes can have a knot in front, under the baby's bum, as per our instructions. Lower straps are suitable for a waist up to 160cm.
Size L can be produced by request, with a slight mark-up (please contact us by e-mail info@diva-milano.com for details).
MEI TAI PACKAGE AND INSTRUCTIONS
Diva mei tai have a nice carton pack and an instructions leaflet.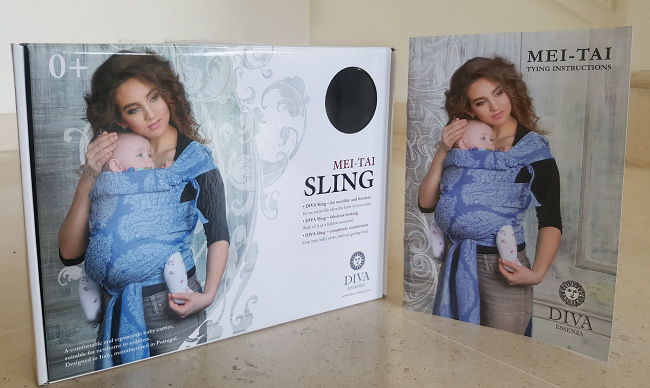 MEI TAI CERTIFICATION
The Diva mei tai was tested in 2016 according to the US and EU standards:
meets ASTM International Standard F2236-14, approved January 2014

meets European Standard EN 13209-2, approved August 2005. 
MEI TAI FEATURES
adjustable base (20 to 40cm) to provide the correct 'M'-shape leg position even for newborns;
a rollable hood which can be used as a baby headrest in 2 positions (high and low);
wide shoulder straps made of Diva Essenza wrap fabric, for a great carrying comfort;
long straps at the hood to lift easily the headrest when using for back carrying.